Here, you will learn how to point a domain to a host by altering the domain's nameservers. Using this method, you can transfer your site to a new hosting provider while retaining your existing domain name.
Setting a Domain Name to a Host Address
Let's imagine you recently transferred your website to a new hosting company. On the other hand, your domain name has remained with the previous hosting provider and no longer directs people to your website.
Because your domain isn't connected to the new web host, you're having this issue. You can choose from various solutions to this problem, but we recommend only one.
The domain name can be transferred to the new hosting company. However, domain transfers frequently incur additional fees because the domain will be renewed.
Second, you can change the domain's DNS A record with your new IP address. However, as A records are supposed to point to static IP addresses, it is recommended not to utilize this strategy. In addition, changing the IP address will cause your website to go offline until you update the record.
The final step is to change the domain's nameservers. This is the best solution because you may move your domain's DNS control to the new hosting provider without changing your registrar.
How to Point a Domain to a New Host?
Changing the domain's nameservers will be explained here, considering all factors. 'Although we'll show you how to point your domain to Hostinger in this tutorial, the process is the same no matter which web host you choose.
Get the New Nameserver Values
Obtain a list of nameservers from your new hosting provider first. The information is typically available on the company's documentation page or in the post-purchase e-mail.
If you cannot locate the information, you should contact your web hosting company.
At Hostinger, you can find all DNS-related information in Hosting -> Accounts -> Details.

The list of nameservers often looks like this:
ns1.dns-parking.com
ns2.dns-parking.com
Web hosts usually provide two or more nameservers. Please take note of all these addresses because you'll need to enter them into your domain registrar's control panel.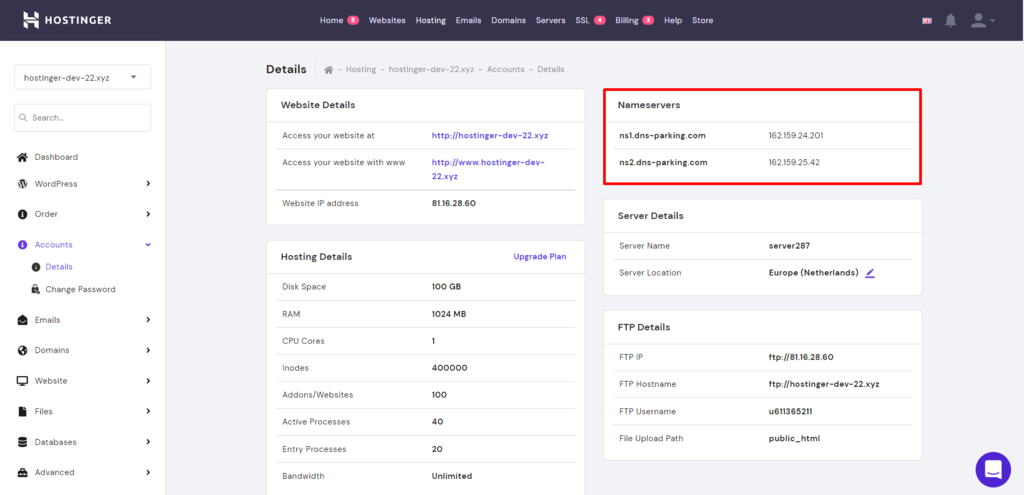 Apply the New Nameservers Values
Replace the old nameservers with the new host's nameservers in directing a domain to the new host. What you need to know:
Your domain name registrar has a login page. Remember where you purchased your domain name.
Set your domain's nameservers by clicking on the "Nameservers" option." Every registrar does this in a somewhat different way. But in general, you'll be able to find what you need in the Domain Management or Domain Overview menu or something similar.
In hPanel, go to Domains -> [your domain name] -> DNS / Nameservers. Expand Change Nameservers and select the Change nameservers option.
You should see several fields, such as Nameserver 1 (primary nameserver), and Nameserver 2 (secondary nameserver), that will most likely be filled with Hostinger's default nameservers.
Enter the nameservers into the appropriate fields. For example, a nameserver that begins with ns1 should be put into the Nameserver 1 field, if it starts with ns2 to Nameserver 2, and so on.
These guidelines should be followed if the nameserver count is less than the number of fields that can be filled in:
As long as your hosting company supplies you with two nameservers, you can input the first two and leave the rest blank.
Using the first two nameservers provided by your hosting provider will suffice if your registrar only enables you to enter two nameservers.
If you still can't find the menu to set your nameservers, go for the registrar's Help or FAQ page. Customer Support can also install the new nameservers for you.
DNS propagation must be allowed time to complete
Please wait for the new nameservers to take effect after configuring them. This is known as global DNS propagation at this time.
A few hours is common, but it can take two days. To speed things up, you may want to clear your DNS cache.
Conclusion
If you switch web hosting providers, your domain name must be redirected to a new host. As it turns out, it's a simple matter of altering the domain's nameservers to do this. First, obtain the information for your new nameservers, paste it into the domain's DNS settings, and then wait for the DNS to take effect.