Agoda is a metasearch engine and online travel agency that specialises in finding travellers the best deals on everything from hotel rooms and vacation rentals to flights and shuttle services between airports. It is a subsidiary of Booking Holdings, which also owns Booking.com, Priceline.com, and Kayak, and is located in Singapore as Agoda Company Pte. Ltd.
This article will walk you through Agoda, show you the ropes, and help you determine whether or not the site will help you save money.
Search for hotels, resorts, hostels, and even vacation rentals with Agoda's wide variety of filters.
Begin by using the primary search box on the homepage to enter your destination (or specific property), trip dates, and party size. Then, to narrow your search to only house rentals, visit agodaHomes or use the filters on your Hotels & Homes results page.
Filtering options on Agoda are limited compared to those on sites like Airbnb and VRBO, but they do exist. Here are some of the criteria you can use to narrow your search:
Homes (the same as searching through the agodaHomes tab on the home page).
Family Friendly (narrows your list to properties with larger rooms and family-friendly amenities).
I want free breakfast.
Book without a credit card
These controls are located on the upper left of your display. In addition, options such as price, location, and user reviews will also be available for sorting your results list.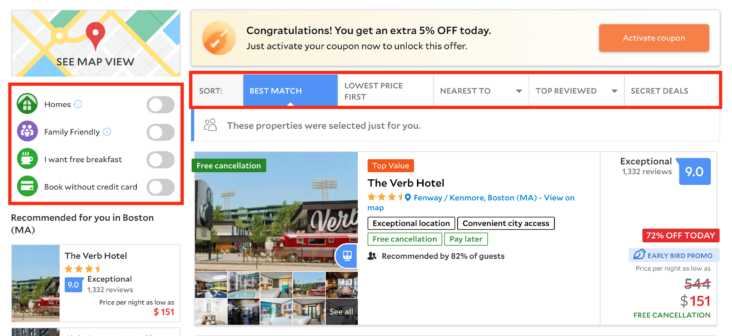 The search results box will display information such as pricing, cancellation policy, and included amenities for each property. The price listed in the search engine results does not include additional charges. You'll have to choose a room and click through for the final cost. Remember that the advertised price may not include taxes or fees such as the hotel's "destination fee," which may also be charged.
Taxes and fees are not included in the prices displayed on Agoda until the last step of the checkout process. Therefore, although Agoda's pricing may appear lower than its competitors, at first sight, the total cost (including taxes and fees) is only revealed in the final booking stages.
Agoda's Best Price Guarantee
A price-match guarantee is available on Agoda if you find a lower rate elsewhere. With this promise, if you find a lower price for the same hotel on another website, Agoda will beat it. Ensure the reduced rate meets Agoda's criteria before submitting a claim for the Best Price Guarantee.
Same hotel
Same room and bed type
Same dates
Same terms (advance purchase, prepayment, and deposit)
The same cancellation and change policies
Must be viewable and instantly bookable on another website
Must not be part of a third-party loyalty program, promotional offer, or vacation package deal
Must not require membership (like AAA or AARP)
Agoda Flights
Agoda is not just for booking rooms but also a great resource for finding deals on flights. Agoda is a metasearch engine that may be used to find the best flight deals. This implies that you can start your flight search on Agoda, but you'll be redirected to a different booking site to make your reservation. Kayak and Google Flights both use a model that is very similar to this one.
Agoda Flight filtering options include:
Aircraft
Airlines
Airports
Alliance
Booking sites
Cabin
Duration
Fees
Flexible options (due to COVID-19)
Flight quality
Layover airports
Price
Stops
Times
Transportation type
You might find a flight marked as a Hacker Fare in your search results. However, this means the ticket is multi-leg and must be purchased from multiple airlines or booking sites. You can save money by purchasing a "Hacker Fare," but before you do, be sure that the two components are still accessible.
When you select View Deal, you'll be taken to another site where you may finish making your reservation.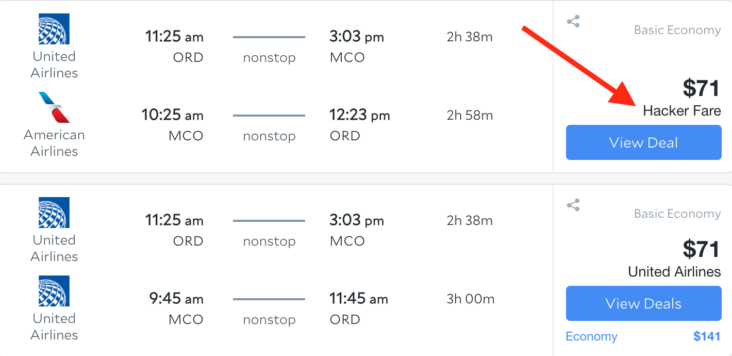 Agoda Hacker Fares are a collection of individual tickets purchased from various airlines or online travel agencies. As you may expect, this is standard procedure for OTAs and metasearch engines. So make sure all of your flight segments are available before you book your Hacker Fare. The only drawback is that you'll have to navigate more than 1 page if something goes wrong or you need to modify your plan.
Agoda Airport Transfer
Airport transfers can be booked on Agoda from more than 2,000 places globally. Select Airport transfer from the main menu to plan your Agoda airport transfer.
The next step is to enter the starting and ending points, the number of passengers, and the date and time of pickup. Finally, select the Landing time if you need to provide your flight details for a pickup service.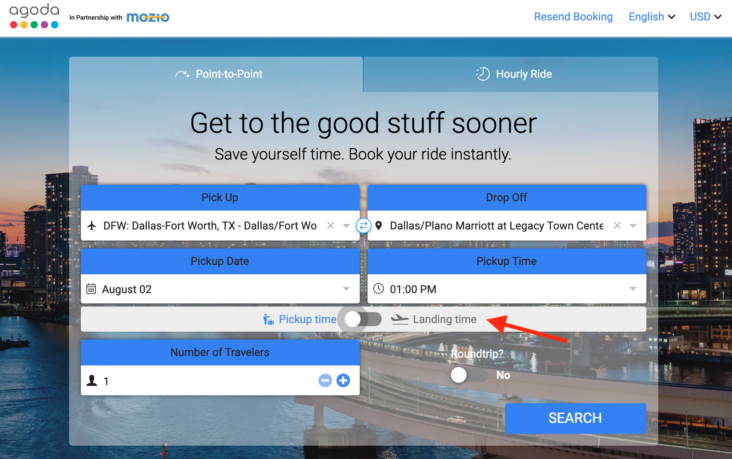 Each search result will include important information, including:
Price
Ride time
Number of passengers allowed
Number of bags allowed
Amount of Free Waiting Time
Meet & Greet eligibility
Cancellation policy
Then, when you're ready to book, click Book Ride to complete your reservation.
Agoda Car Rentals
Agoda also allows you to search for rental cars. To start your search, click on the 3 dots in the menu at the top of the screen and then click on Car rentals.
The next thing you know, you'll be taken to Rentalcars.com. Since Agoda is an affiliate partner of Rentalcars.com, it will receive a commission from your rental car purchase.
Start your search for a rental car by entering your desired pickup and drop-off locations, dates, and times.
The search results will represent all of the main automobile rental agencies such as Alamo, Hertz, Budget, Enterprise, National, Sixt, and Thrifty.
You'll be able to see a lot of detail about each search result, like
Rental-car firm
Details on the total cost, including upfront and later payments.
Should it be necessary, your right to cancel for no charge is guaranteed?
Specifications on the make and model of the vehicle
Wild Card appears in some search results. This type of lease is known as an opaque one. So, you won't know everything about the automobile you're renting until after you book it. If you aren't picky about the make and model of automobile you hire, you can save money by using this method, which is often used by rental car businesses.
| | |
| --- | --- |
| Website | Total Cost of Cheapest Rental |
| Agoda | $270.17 |
| Expedia | $207.52 |
| Hotwire | $195.29 |
| Priceline | $247.58 |
| Travelocity | 207.52 |
AgodaCash
With AgodaCash, a reward programme, you may collect points toward future hotel stays. To access details about the AgodaCash programme, you will need to create a free Agoda account.
The AgodaCash option is accessible from the drop-down menu next to the dollar sign icon in the top right corner of the screen after account creation.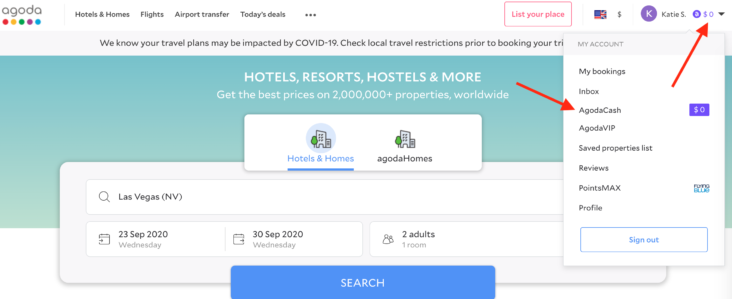 The amount of AgodaCash you have earned and spent will then be displayed. When you stay at participating hotels and Airbnbs, you'll get AgodaCash as a reward. The amount of AgodaCash you can earn is displayed in the search results box if the hotel is part of the programme.
AgodaVIP
AgodaVIP is a loyalty program that rewards you for booking hotels through Agoda. There are 3 levels of membership — Member, VIP Silver, and VIP Gold — that are based on the number of your completed bookings in the last 2 years.
Once you create a free account, you'll be a Member and have access to Insider Deals and the Best Price Guarantee.
After 2 completed bookings in the previous 2 years, you'll be a Silver VIP member, making you eligible for VIP deals up to 12% off. After 5 completed bookings in 2 years, you'll be a Gold VIP member, eligible for VIP deals up to 18% off.
| | | |
| --- | --- | --- |
| Membership Level | Requirements | Benefits |
| Member | Create a free account | Insider deals and best price guarantee |
| Silver VIP | 2 completed bookings in the previous 2 years | Insider deals and best price guarantee; VIP deals with up to 12% savings |
| Gold VIP | 5 completed bookings in the previous 2 years | Insider deals and best price guarantee; VIP deals with up to 18% savings |
Agoda Coupon Codes
Discount codes for Agoda are available from a variety of sources. However, you should first look for discount codes offered by CouponZania.
Agoda Coupon: Get Up To an Extra 10% OFF On Your Bookings using the latest verified coupon code, offers & discount …
Agoda Offers: Get Up To 72% OFF on Hotels & Flights on Agoda Online using the latest working Coupons, Promos & …
Agoda London Offer: Grab Flat 10% OFF On All Hotels In London at Agoda using the latest working Coupons, offers, deals …
Final Thoughts
Agoda is a metasearch engine and online travel agency that lets you find and reserve anything from hotels to vacation rentals to flights to airport shuttles to tours and activities.
Guests can take advantage of several booking bonuses available on this site, such as AgodaCash, the AgodaVIP reward programme, and the PointsMAX programme.
You won't benefit from these features if you're looking to arrange transportation to or from the airport, a rental vehicle, or a flight; they only apply to hotel stays.
Many booking services like Agoda may help you save money on lodging, transportation, and other travel expenses. Regardless of where you plan to schedule your next vacation, it's always a good idea to shop around and ensure you're receiving the best possible value.