According to a survey, mobile devices conduct more than half of all Google search inquiries worldwide. Therefore, optimizing your WordPress site for speed and aesthetics should be a top concern for these searches. This is now much simpler with Google's Accelerated Mobile Pages (AMP) program. Thanks, Google!
This article will explain how to set up WordPress AMP: we will be using AMP for WP – Accelerated Mobile Pages plugin to ensure we get it fast and easy.
What does AMP stand for in WordPress (And How It Can Benefit Your Site)?
Fast, fluid, and stripped-down mobile versions of your website are now possible with Google Accelerated Mobile Pages (AMP), a free, open-source library from the search giant. Building on current platforms and frameworks makes AMP incredibly user-friendly. And it's completely WordPress-compatible, too.
The Google AMP Project allows you to generate an AMP HTML copy of your site. This procedure eliminates most of the elements responsible for a sluggish WordPress site (JavaScript, third-party scripts, etc.). For even faster loading times, Google further reduces and streamlines your site.
Google AMP has a lot of advantages, but it could also have some disadvantages. So let's take a look at it from both perspectives. First and foremost, the advantages include:
Optimization for Search Engines (SEO): Google AMP's most evident benefit is increased speed. Because page speed affects your page's ranking in search engine results pages (SERPs), this can assist make your site more widely known and more easily accessible. In addition, your site's pages will also appear in the Google News carousel, prioritized above the "above the fold" placement on mobile searches, thereby enhancing your SEO.
Increased satisfaction for the user: A whopping 33% of all potential purchases are projected to be lost because a website is not optimized for mobile devices. A more alarming study indicated that 57% of internet users would not suggest a firm with a poorly-designed mobile site. You can use Google AMP to develop mobile-friendly web pages to avoid these issues.
You enhanced server responsiveness: Google's most important optimization features are incorporated into Google AMP. Server-side rendering is increased by 50%, and bandwidth use is reduced without sacrificing image quality. AMP helps your site run faster by minimizing the amount of work your server has to do.
The following are some probable drawbacks to adopting Google AMP:
An issue with the use of CSS and JavaScript. Google AMP allows you to sacrifice branding components to achieve lightning-fast page load times. As a result, CSS and JavaScript-based animations and high-definition graphics will be removed from AMP pages.
Only pages that have been cached are shown. Faster loading times can be attributed to Google's cached copies of your web pages through Google AMP. However, you may not always have access to the most recent version of your material.
It isn't easy to get money through advertising. Even though Google AMP does accept adverts, the implementation process is very hard. It's also limited in its ability to integrate with other ad-serving platforms.
A responsive web design may be a better option if these drawbacks are enough to make you reconsider. However, Google AMP is still a terrific option if you're searching for an easy solution to ensure that your web pages appear and work great on mobile devices.
Next, we'll show you how to set up WordPress AMP with the help of a few helpful Accelerated Mobile Pages WordPress plugins.
How to Set Up WordPress AMP Using Plugins?
With the ability to be combined with a wide range of other technologies, this WordPress AMP plugin goes above and beyond the basic requirements. These include WooCommerce, the most popular e-commerce plugin, Alexa for SEO, OneSignal push-button notifications, and many more.
To use this AMP plugin for WordPress, you'll first want to navigate to Plugins -> Add New in your dashboard. Search for "AMP for WP" and install the plugin: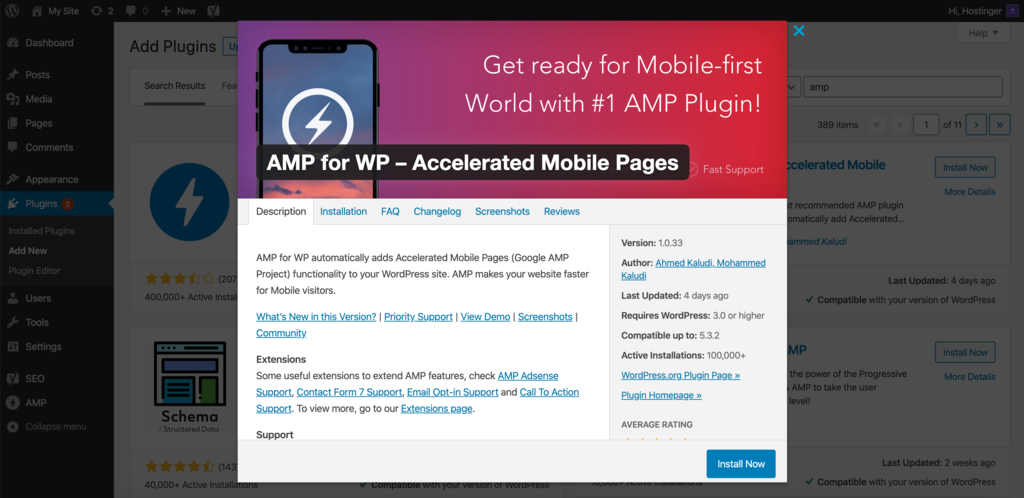 Next, navigate to the new AMP tab in your WordPress dashboard and choose your preferred panel view option. If you've selected Advance, you will see a menu with sections for Settings, Design, Extensions, etc. Let's take a closer look at the Settings option: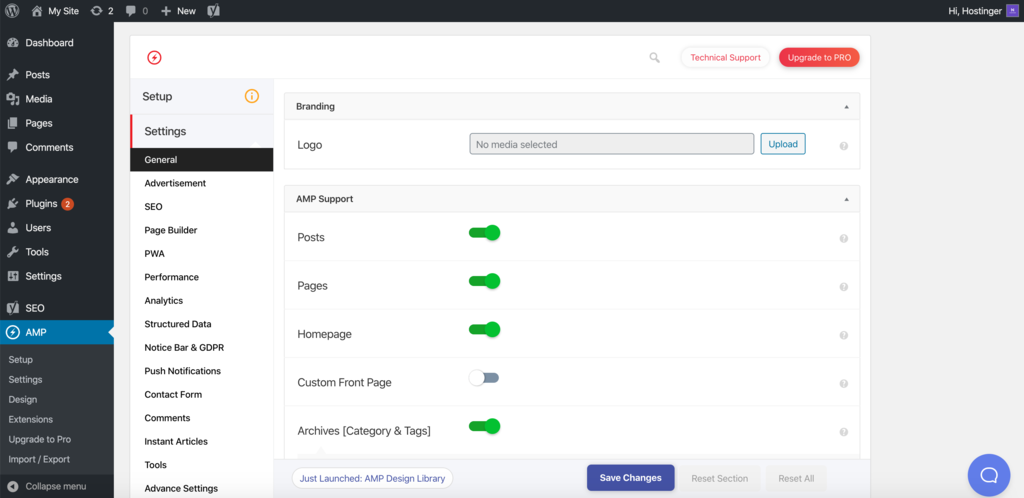 You'll want to start by going through the handy Getting Started guide linked. It will help you optimally configure your WordPress AMP setup. After that, you can run through the various options that the plugin can offer, including:
SEO Improvement: Plugin integration, meta description settings, and other SEO aspects are part of the SEO process.
Performance improvement: Toggling file minification on and off is simple, thanks to a single setting. The speed of your site can be improved even further by reducing the size of your files.
Analytics: you may set up Google Tag Manager integration and analytics options inside this section.
Comment integration: You can choose whether or not WordPress, Disqus, and/or Facebook comments are included in your WordPress AMP by configuring this option.
Misc Settings: Configure mobile redirection and retina images and enter custom HTML for headers and footers.
Once you've finished configuring a setting, click Save Changes to save your progress. Then on the Design tab.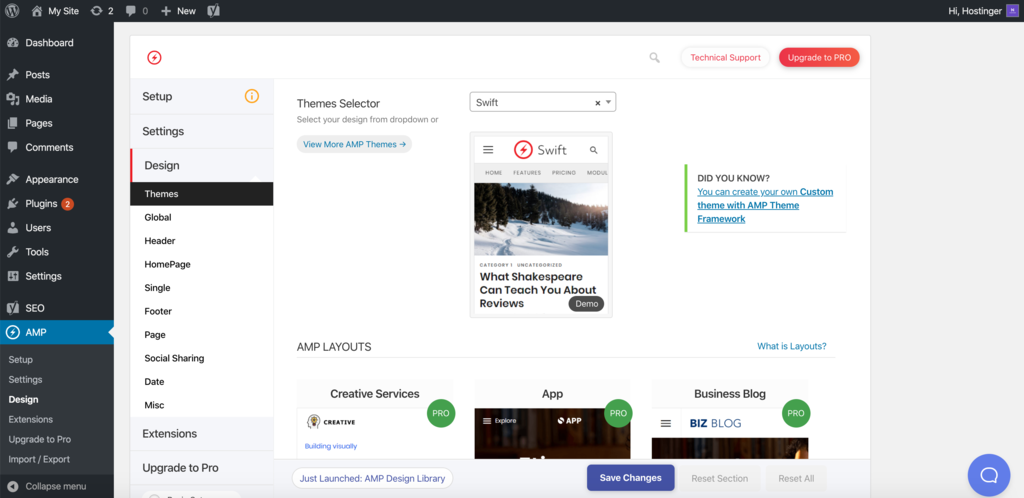 To put it another way, you may tweak the look and feel of your WordPress AMP site. You can do this by selecting an AMP theme from the drop-down menu in the Theme Selector.
Customize the look of your theme after you've chosen one. Options for header and footer display, homepage sidebar, color schemes, and typography may be found under the Global tab. You can also choose which social media buttons appear on your WordPress AMP site in the Social section.
Your AMP website will look exactly how you want it to when you've made the necessary adjustments. You may see a preview of the changes by going to Appearance –> AMP in the settings menu.
There are a lot of options available in this plugin's free version. On the other hand, Premium extensions can greatly enhance the look and feel of your AMP site. AMP WooCommerce Pro, custom post kinds, star ratings, and more are just extensions available for WooCommerce users.
No posts for this criteria.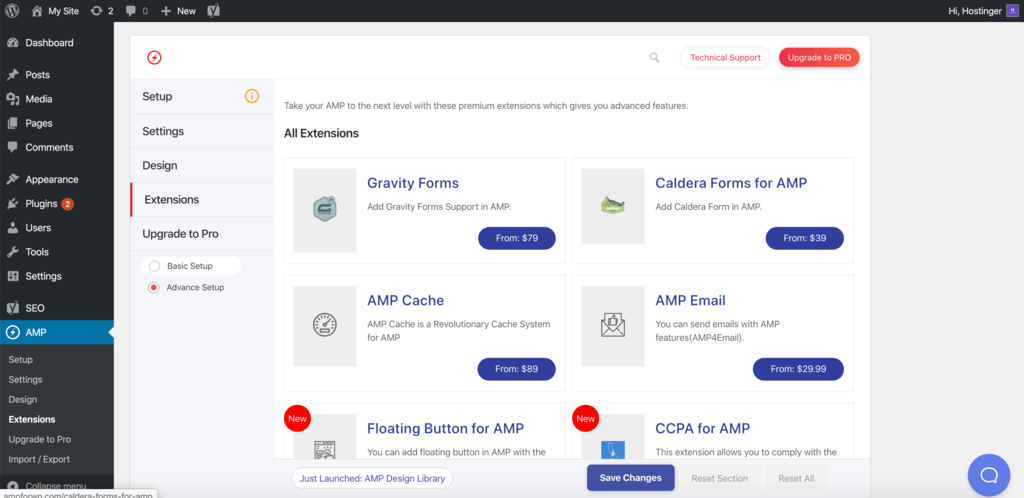 There are also premium AMP themes for sale. Please return to your dashboard's Design -> Themes to see them. In addition, many alternatives are available that are tailored to specific sorts of websites, such as news and magazine websites. Finally, several excellent multipurpose themes are also available.
The Accelerated Mobile Pages plugin has a choice of premium options if you want to use even more advanced features. From the $149/year Personal plan (which covers one site) up to the $499/year Agency plan (which covers an unlimited number of sites). Get a discount on AMP for WP using coupons from CouponZania.
No posts for this criteria.
Conclusion
Search engine rankings and conversion rates could suffer if your site takes even a few seconds to launch. Fortunately, as we've seen, Google AMP may assist you in ensuring that your site's mobile pages load quickly. Furthermore, using the proper Accelerated Mobile Pages WordPress plugin makes configuring and customizing AMP for WordPress a breeze.
There may be some issues with either WordPress AMP plugin that you'd like to resolve first. Let us know what you think in the comments below.